On the field, it is crucial to rely on a mobile and easy-to-use tool, infallibly able to capture, store and distribute data no matter which type of operation is conducted.
Siteflow's ergonomics are specifically designed to handle these constraints, with a constant concern for simplicity, as well as for quality and traceability standards compliance.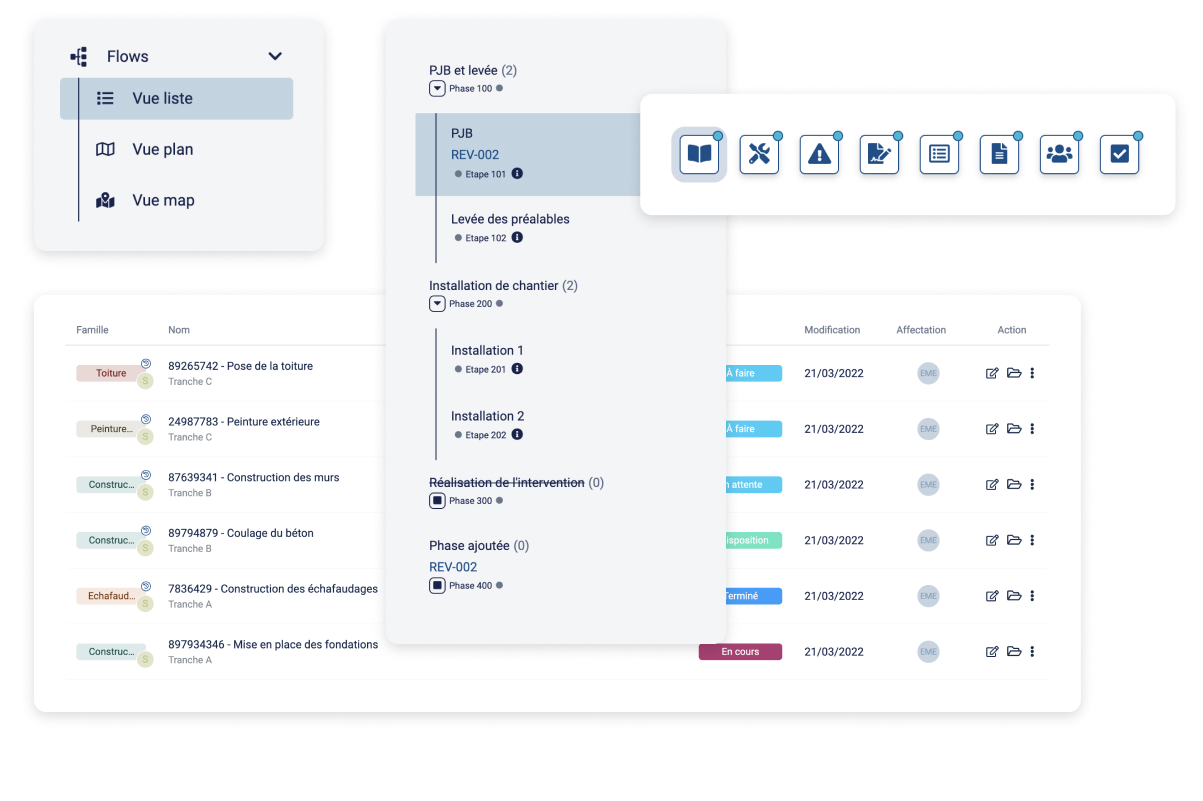 Organise operations through Agile methodology
Siteflow creates the "flow" concept: an information unit that enables the structuring of complex operations within the solution, and the facilitation of their execution. Phases, steps, and thematical blocks – functional sub-levels of the "flow" - organise their technical details. Operational procedures built in the WebApp can be then methodically followed by field workers on the MobileApp.
C

apture data in cutting-edge off-road forms

Siteflow form editor offers the most advanced and customisable of the market. To list a few:
Multiple types of questions, which anticipate any kind of situation on the field
Advanced calculation formulas

Photo-taking, geolocation capacities

Real-time updates and data transfers to management teams

Excel exports...
For all your types of operation, Siteflow ensures precise, rigorous, and secure collection of data, on which one can then efficiently capitalise (analyses, statistics, integrations...)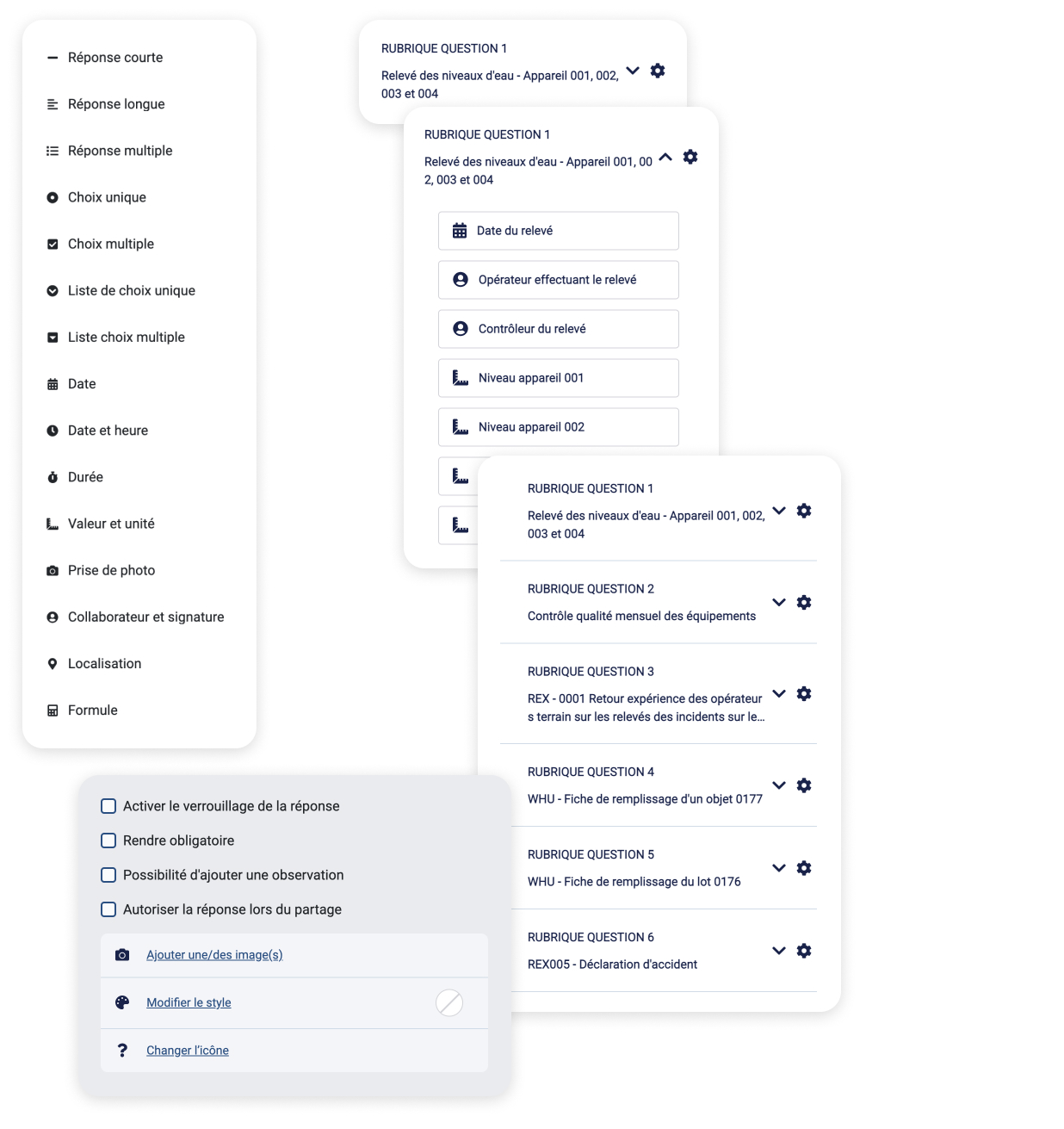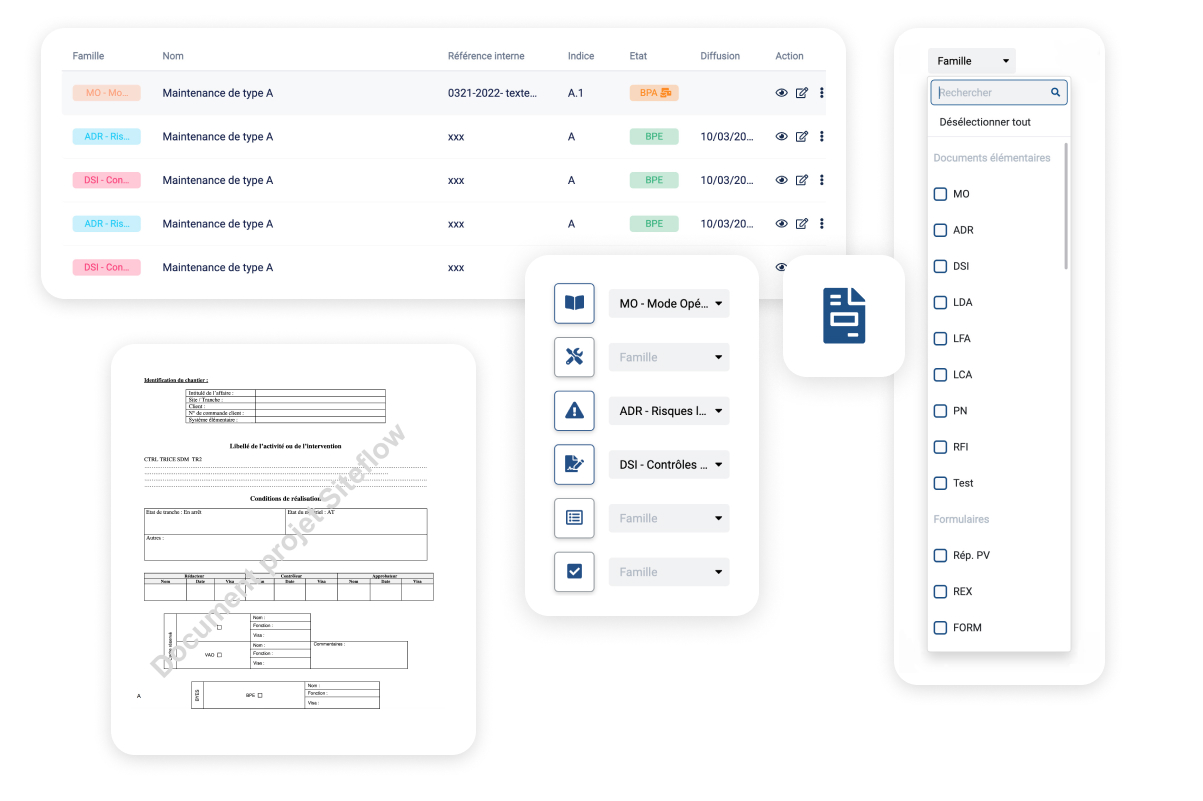 Save time with automated documentation
Siteflow enables simplified, customised (integrated frames) and automated generation of all your documentation (procedures, reports, quality plans...). To ensure a quality validation circuit that is 100% digital, the tool manages the changes of regulatory indexes between suppliers and ordering organisations.
Enjoy integrations to synchronise your various platforms
An extended APIs catalog is provided, enabling any kind of integration into your existing IT systems. As they are inter-connected between your various software platforms, data can flow and support optimal production efficiency. From one service to another, the information related to your operations can be shared, used, and analysed in depth. Capitalisation on experience is this way strengthened and continued.

QUALITY AT THE FOREFRONT
Because Siteflow has knowledge of the main industrial regulatory requirements imposed on your collaborators, it proposes a solution adjusted to their quality constraints. From the preparation of your operations to their closure, the solution ensures a maximal level of security and traceability on all your workflows, whether these are standard or particularised.
DATA-DRIVEN OPERATIONS
Siteflow meets long-term challenges related to knowledge capitalisation. The solution centralises all the information needed to execute operations in collaborative reusable databases, that you can enrich and adjust from one project to the other. Structured, the data captured and generated by your workforce are continuously integrated into your IT ecosystems and operational dashboards. Return on experience is facilitated, enabling the continuous improvement of your operations.
STANDARDIsATION OF OPERATIONS
A high level of complexity may lead to latencies, blockages, laborious communications, and loss of key information in the course of operations. By engaging your workforce in a user-friendly and agile solution, Siteflow modernises and optimises your processes. The solution's data and files libraries enable you to organise, sort, duplicate, and finally standardise all your operations and procedures, for liberated and boosted productivity.
Transforming, accelerating, and improving your industrial activities in compliance with quality and safety standards?
It's possible. With Siteflow.